Augustus Suglia, A.I.A.

382 Church Avenue
Cedarhurst, L. I., N. Y. 11516
516-569-4241 or
e-mail us

FOR HANDYMAN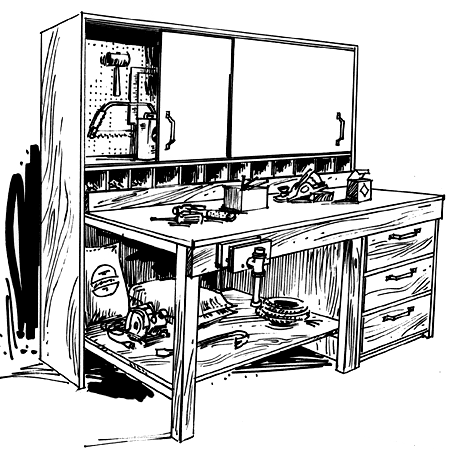 Home Improvement 4044-Find a corner in basement, garage or hobby room for a workbench designed to help the home handyman do his thing. Drawers at the side hold blueprints and other aids; cabinet above is for hand tools. Bins store nails within reach. Shelf at bottom houses heavy tools. There's a built-in standard vise assembly. Bench is 6 feet wide; 2 feet deep; 6 feet high.
---
HANDIEST PLACE OF AWL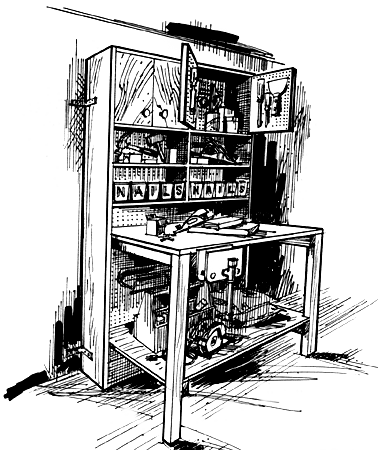 Home Improvement 5010-Another version of the workbench can be built in multiples of four feet each. The basic unit has shelves and cabinets for the storage of hardware and tools and a large lower shelf to hold heavier power saw and a portable tool chest for jobs in other locations. The bench extends two feet from the wall and is six feet high for easy installation.
---
BACK TO THE BENCH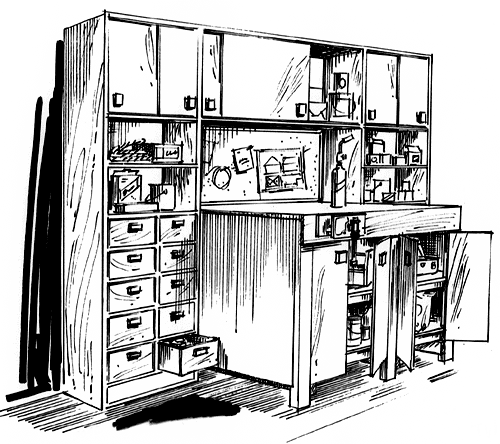 Home Improvement 5048-A workman is only as good as his tools and a home handyman only as effective as his work place. If his tools are scattered around the kitchen, if he has to clear floor space to spread out a project, he needs a workbench, such as this plan. The bench is 4 feet wide. At each side, there's a 2-foot wide cabinet to store nails, tools, hardware, and books. Cabinet under the workbench takes heavy-duty tools, paints, etc. Corkboard over bench is handy for pinning up plans for projects that are in process.
---
IDEAL FOR HOME WORK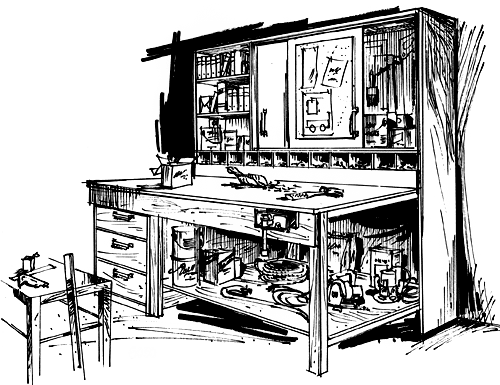 Home Improvement 6050-A home handyman's first project should provide a base for future operations. This workbench could be it. Note its storage facilities: drawers and a large shelf (it's ideal for heavier tools) below; shelves, cabinet, and divided sections for nails above. Note tackboard for blueprints or memos. Vise assembly is built-in. Workbench is 6 feet wide; 6 feet high, 2 feet deep.

For questions, suggestions, or comments please contact the webmaster

Copyright ŠAugustus Suglia 1997-2003