Augustus Suglia, A.I.A.

382 Church Avenue
Cedarhurst, L. I., N. Y. 11516
516-569-4241 or
e-mail us

Space Saver
DROP DOWN HOBBY TABLE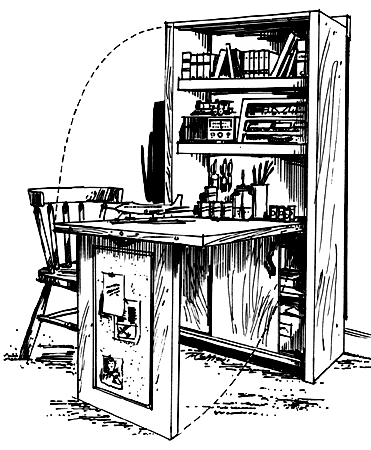 Home Improvement 5008-If space is at a premium in your home or apartment, consider such space-saving designs as fold-down furniture. This hobby table is an example. When you need it, it folds down. When you don't, if folds up. The support, with its framed bulletin board, folds flat against the table, completely disguising its function. Note shelves above for storing games, books whatever. Below, sliding door cabinets provide more stowaway space. Ideal for a child's room, hobby room or family room, the unit could serve as a kitchen snack bar. It is 2 feet, 9-1/2 inches wide; 9-1/2 inches deep, closed; 3 feet, 9-1/2 inches deep open; 5 feet, 8-1/4 inches high.
---
DROP TABLE AND CABINET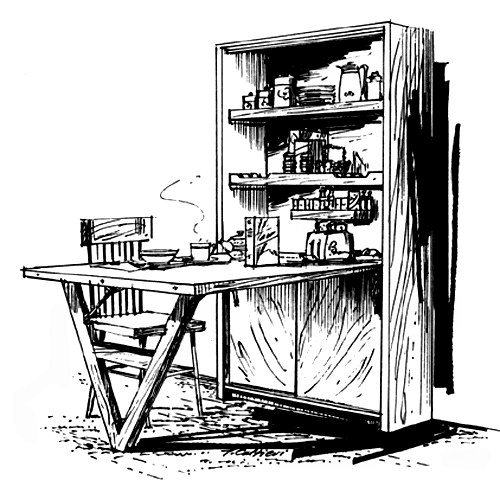 Home Improvement 4002-Ideal for a hobby room or for a small kitchen in a house or an apartment, this two-in-one unit is a real space-saver. The cabinet has sliding doors below for multi-use storage, open shelves above that are revealed when the drop table is opened for dining or hobby use. The tabletop is finished with Formica for easy cleaning. The unit is 2 feet, 9 inches wide by 5 feet, 8-1/4 inches high by 9-1/2 inches deep plus 3 feet for table projection.
---
SEWING CENTER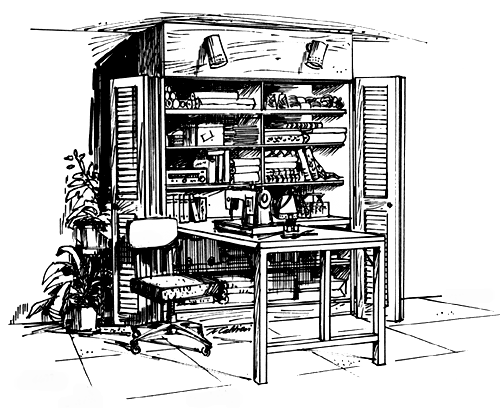 Home Improvement 5030-This sewing center can be built into a corner or freestanding. The table folds up and hides behind louvered doors when it's not in use. Shelves store sewing supplies and linens. The sewing center is 5 feet, 4 inches wide; 15-1/2 inches deep; room height.
---
PAPERWORK HIDEAWAY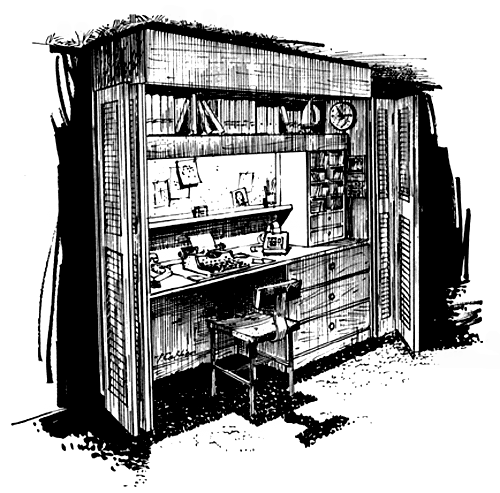 Home Improvement 6020-This home office unit is designed to keep 9 to 5 office hours. You can close up shop by closing the louvered doors. Desk setup includes drawers, bins and shelves to store books, papers, and other aids. Built-in light illuminates desktop. Office is 5 feet, 4-1/4 inches wide; 15-3/4 inches deep; height can be adapted to 7 or 8 feet.

For questions, suggestions, or comments please contact the webmaster

Copyright ŠAugustus Suglia 1997-2003