Augustus Suglia, A.I.A.

382 Church Avenue
Cedarhurst, L. I., N. Y. 11516
516-569-4241 or
e-mail us

OUTDOOR LIVING ROOM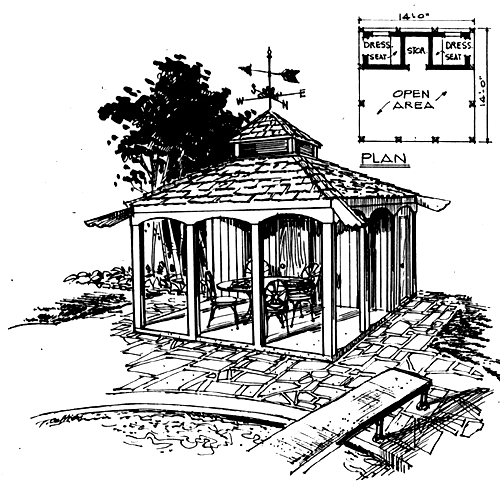 Home Improvement 4020-Everyone in the family will enjoy a gazebo, such as this one. It is an outdoor living room adults will use for dining or relaxing. It makes a great place for children to "camp out" in warm weather. If built at poolside, two back compartments can be turned into dressing rooms, so bathers can change on the spot instead of heading back to the house in wet suits. If preferred, the dressing rooms can be used to extend the storage space supplied by a roomy closet.

A louver built into the top cupola pulls warm air up so that the gazebo stays cool and comfortable on a hot day. Canvas curtains can be hung in the open sections and pulled closed to shut out sun, wind or summer showers. The gazebo is 14 feet square, 15 feet high.
---
TEPEE GAZEBO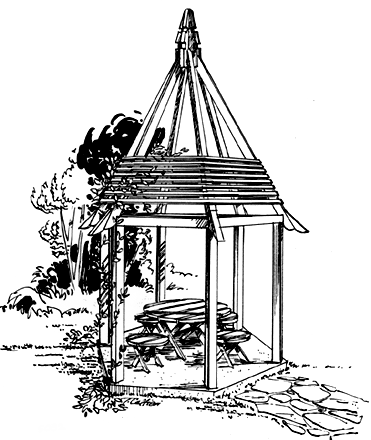 Home Improvement 5032-A yard is a yard is a yard, but it can be much more. It can, if you plan that way, be the place where you spend most of your summer time. Make your yard inviting. A gazebo, such as the tepee-inspired design that's pictured here, is sure to lure you outdoors more often. It has a slatted roof that allows for filtered shade. Picnic tables can be placed inside for outdoor eating. Screen insides and roof, if you like. Gazebo is 10 by 10 feet; 17 feet high.
---
GARDEN GAZEBO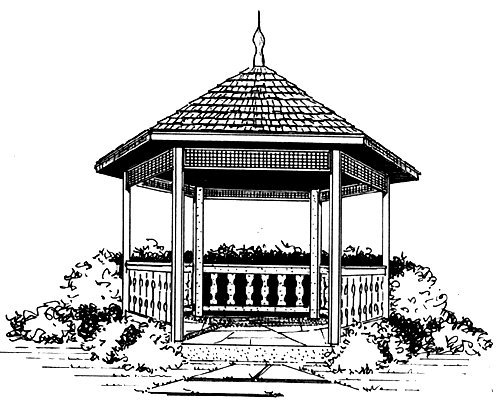 Home Improvement 8211-Roofed garden shelter offers year-round shelter. Unit is 7 feet, 7 inches from grade to roof top and 5 feet on each side of hexagon. Table and chairs can fit into interior space for outdoor dining. Entire structure can be screened for pest control.

---
SUMMER ROOM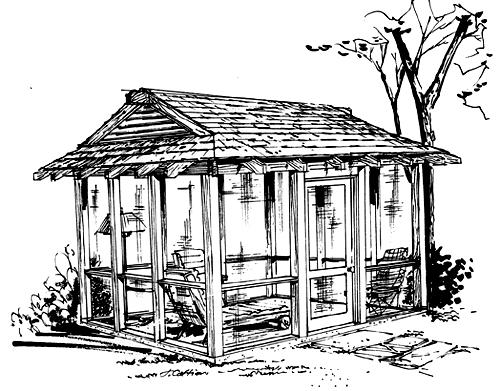 Home Improvement 1277-Build yourself a 10 feet by 12 feet outdoor living room that's screened in so you can enjoy it, but insects can't. Shingle roof is louvered at each end, making a shady, airy summer retreat.

For questions, suggestions, or comments please contact the webmaster

Copyright ŠAugustus Suglia 1997-2003