Augustus Suglia, A.I.A.

382 Church Avenue
Cedarhurst, L. I., N. Y. 11516
516-569-4241 or
e-mail us

ROOM ORGANIZER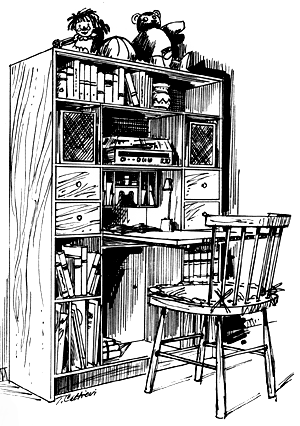 Home Improvement 4034-Here's a storage unit that is useful in a family room or bedroom. There's a drop desk at center and, around it, shelves for books, CD's, stereo and speakers. Drawers file paper, clips and other supplies. Built of standard-size wood shelving, unit has 4x6 pre-finished wood panel at back. It is 4 feet, 1/2 inch wide, 11-1/2 inches deep, and 6 feet high.
---
VERSATILE DESK UNIT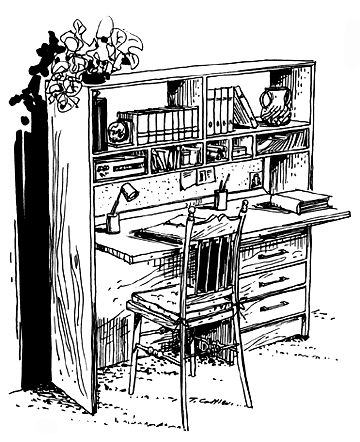 Home Improvement 3052-This easy-to-build desk can serve as Dad or Mom's home office, family planning center, or the children's homework spot. It is planned with shelves for books, cubbyholes for mail, and drawers for office supplies. Note corkboard panel at back for memos or recipes. Desk is 4 feet wide; 5 feet, 6 inches high; 9-3/4 inches deep.
---
BIG DESK SPACE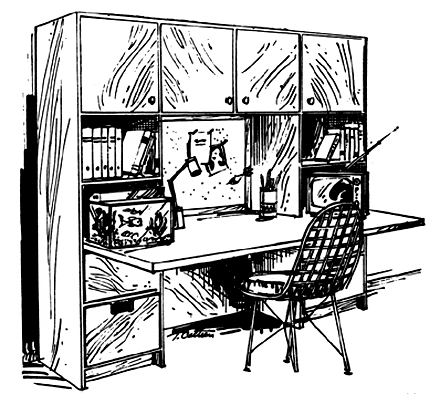 Home Improvement 4040-If you need a desk plus stowaway space, this design could solve all your problems. Ideal for a child's or family room, it's simple to build. A standard size hollow core door is used for desktop. Open shelves hold books, TV, whatever. Cabinets provide more storage space, while drawers file important papers. Storage wall-desk is 6 feet, 9-1/2 inches wide; 11-1/4 inches deep (desk depth: 1foot, 8 inches); 7 feet high.
---
THE HOME OFFICE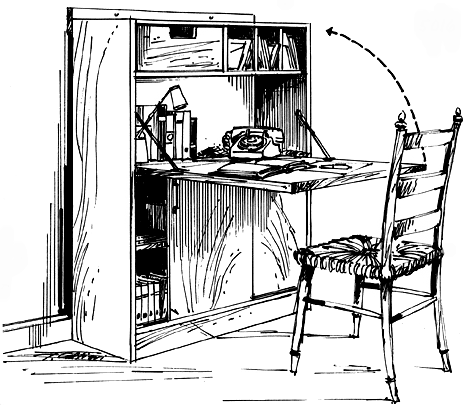 Home Improvement 5016-This handy desk unit solves the homework problem in kitchen, family room or child's room. Drop-down front provides a generous writing surface. Pigeonholes and drawer at top help keep office supplies neatly filed. Lower sliding door cabinet is handy for stowing away odds and ends. The desk unit, which can be painted or stained, is 3 feet wide by 11-1/4 inches deep by 4 feet, 4 inches high.

For questions, suggestions, or comments please contact the webmaster

Copyright ŠAugustus Suglia 1997-2003