Augustus Suglia, A.I.A.

382 Church Avenue
Cedarhurst, L. I., N. Y. 11516
516-569-4241 or
e-mail us

SHELF SERVICE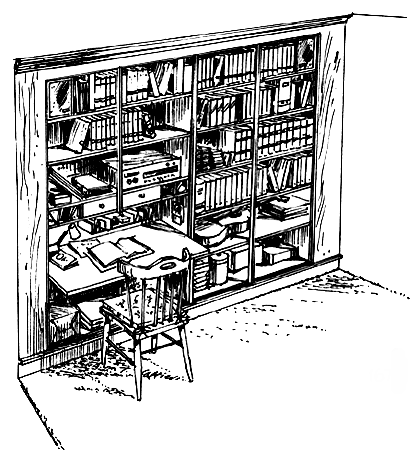 Home Improvement 1678-Build a bookcase that provides shelf space for your library and stereo plus a desk. It's 9 feet, 6 inches wide; 7 feet, 9-1/2 inches high, 11-1/4 inches deep.
---
STOWAWAY UNIT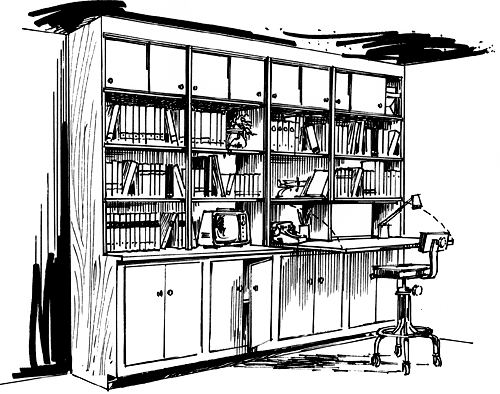 Home Improvement 5052-Here's a plan to solve all your where-to-put-it problems. A roomy design, it provides stowaway shelves for books plus overhead and lower cabinets that can stash a variety of odds and ends from bulky serving pieces and games to out-of-season items. The big plus is a drop-down desk. As shown, it's 8 feet wide but it can be built as a 4-foot or 12-foot unit; 8 feet high; lower cabinets, 13-1/4 inches deep; shelves, 9-1/4 deep.
---
FOUND SPACE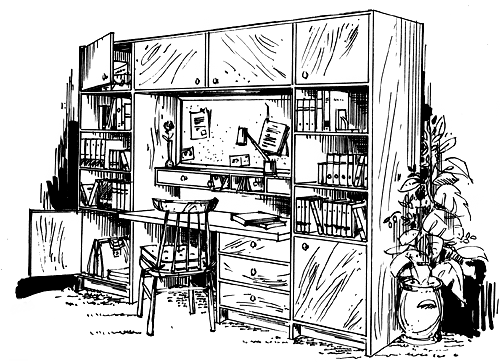 Home Improvement 5038-Put a wall to work and create valuable storage space by building this desk unit. All sorts of miscellany can hide out in the roomy base and overhead cabinets. There are drawers for home office supplies and shelves for books. Desk unit is 9 feet wide; 17-1/2 inches deep; 8 feet high.
---
TURN A CORNER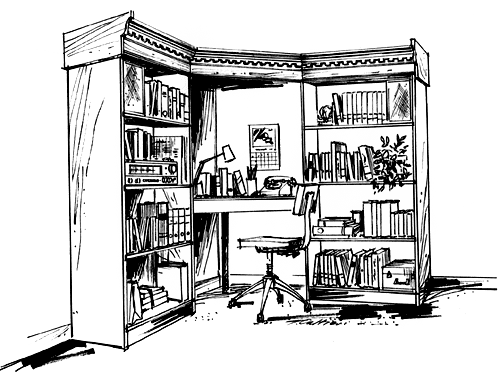 Home Improvement 5277-
Put an empty corner to work with this desk-bookcase unit. Desk, at center, fills in space that's usually lost, while shelf units at either side provide show spots for books and bibelots. Stain or paint the unit to fit your room's scheme. Unit is 6 feet high and 4 feet, 3 inches from each side to corner.

For questions, suggestions, or comments please contact the webmaster

Copyright ŠAugustus Suglia 1997-2003