Augustus Suglia, A.I.A.

382 Church Avenue
Cedarhurst, L. I., N. Y. 11516
516-569-4241 or
e-mail us

---
RAILROAD BUNK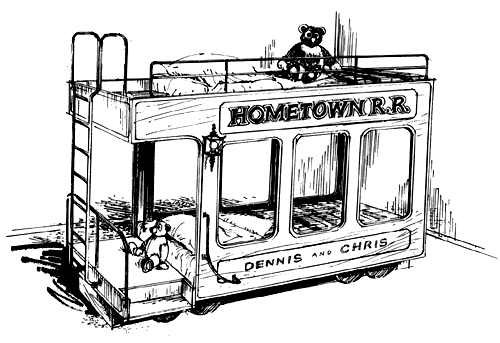 Home Improvement 6036-If Dad or Mom builds this caboose-style bunk bed for the kids; you won't have to nag them at bedtime. They'll actually look forward to chugging off to sleep Pullman style, although there's likely to be some discussion about who gets t climb the ladder that leads to the upper berth.

Upper bunk is designed with a railing that will keep a restless sleeper safely aboard. Lower bunk is designed with openings that simulate old-fashioned train windows. Caboose is 8 feet, 5 inches long; 3 feet, 2 inches wide; 5 feet, 4 inches high.
---
FOLDAWAY BED UNIT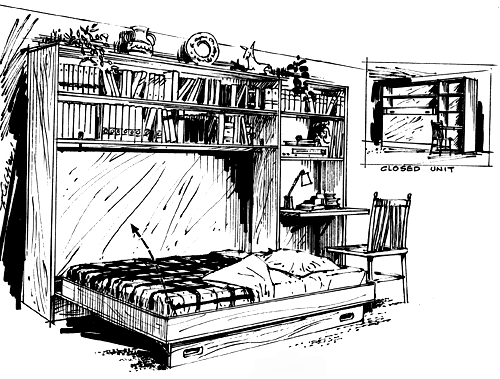 Home Improvement 6046-Any room can be a guestroom when it's equipped with this foldaway bed. It is built into a bookcase that incorporates a desk. The desk can be eliminated if space is limited. For children's room, two foldaway bed units could be built back-to-back, giving each child privacy and, when the beds are folded away, play space. Foldaway bed unit is 9 feet, 1-3/4 inches wide, 7 feet high, 11-3/4 inches deep when closed.

For questions, suggestions, or comments please contact the webmaster

Copyright ŠAugustus Suglia 1997-2005