Augustus Suglia, A.I.A.

382 Church Avenue
Cedarhurst, L. I., N. Y. 11516
516-569-4241 or
e-mail us

RECREATION ROOM CORNER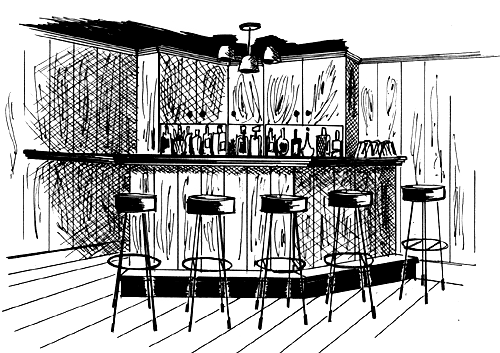 Home Improvement 4052-This bar could fit into a corner of family room, recreation room or basement. Cabinets at back store glasses, dishes, soda bottles and refreshments. Below these cabinets, open shelves store bottles and, below them, there is more shelf space. The bar has a footrest at front and, at back, shelves. The bar, 3 feet, 5 inches high, projects 6 feet from corner of room to the front.
---
DISHES & GLASSES HUTCH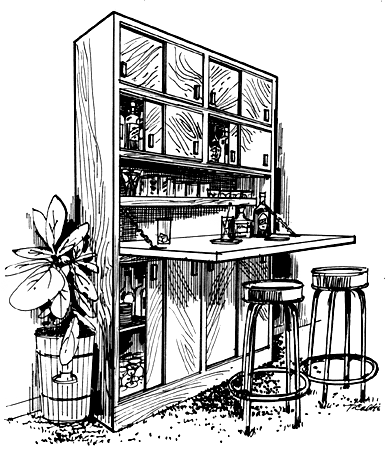 Home Improvement 4008-If your family has entertaining ways; this build-it-yourself bar could be a decorative and useful addition to living room, den or playroom. The drop leaf (shown open) provides a work counter for mixing drinks. Sliding doors front compartments for bottles, glasses and other supplies. Compact in size, the unit is 4 feet wide by 6 feet, 8 inches high by 8-3/4 inches deep.
---
BEVERAGE-SERVICE DUET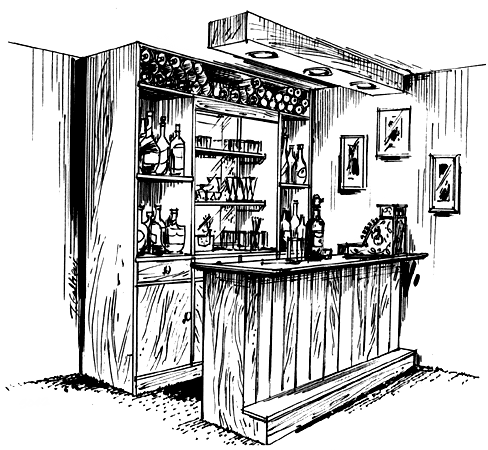 Home Improvement 5042-Entertaining's easy when a bar is set up, ready to serve guests in the family room, basement, hobby room, den, or wherever hospitality is dispensed. This one is a build-it-yourself project for home handyperson. The back bar cabinet has mirrored center section and shelves for glasses. Back of bar includes a wine rack. Front of bar has a footrest. Note useful drawers and cabinets for silver, napkins, serving dishes, bottles, snacks and other aids. Bar and cabinet are both 6 feet wide; cabinet is 8 feet high; bar is 3 feet, 4 inches high.
---
HIDEAWAY BAR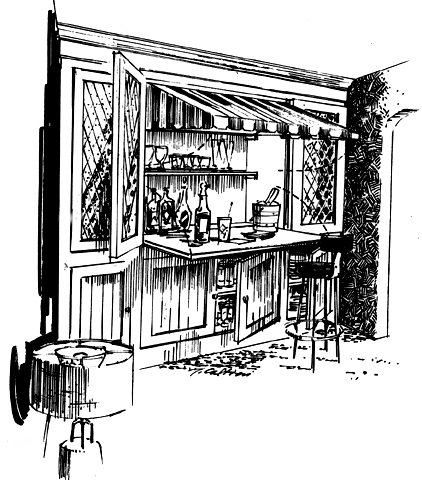 Home Improvement 6002-This hideaway bar does a disappearing act when not in use. The awning folds up, so does the counter; the entire unit is concealed behind doors. Although shown as a built-in, the bar can be built free standing. Cabinets on either side plus base cabinets provide generous storage space for bottles, glasses and serving pieces. Unit is 8 feet wide; 16-1/8 inches deep. Build it room height.
---
SOCIAL CENTER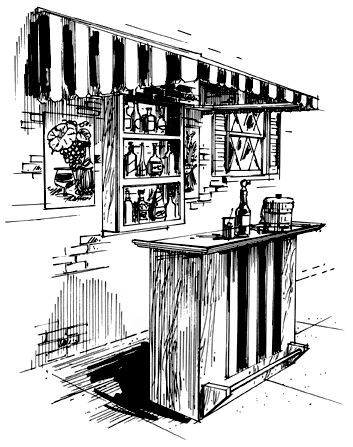 Home Improvement 3036-The bar is 5 feet wide by 1 foot, 4 inches deep and has two shelves that store bottles, glasses and other supplies. A wall shelf that is 2 feet wide by 3 feet, 6 inches high provides a show spot for fancy decanters and glasses.
You can build the bar of redwood or exterior plywood, stained or painted to suit your taste. There is a canvas awning that is 5 feet, 2 inches wide that projects 4 feet, 1/2 inch and shades the entire unit. When not is use, the bar can be pushed against the wall.

For questions, suggestions, or comments please contact the webmaster

Copyright ŠAugustus Suglia 1997-2003