Augustus Suglia, A.I.A.

382 Church Avenue
Cedarhurst, L. I., N. Y. 11516
516-569-4241 or
e-mail us

BAY WINDOW GREENHOUSE
Home Improvement 1077-A-frame greenhouse: If you're into gardening and need a place to store equipment and start plants, this attractive A-frame greenhouse could be the answer. Plastic roof over plant section allows plenty of sunlight. Workbench is built into opposite side. Greenhouse is 12 feet wide; 10 feet, 2 inches deep; 7 feet high.
---
A-FRAME GARDEN SHED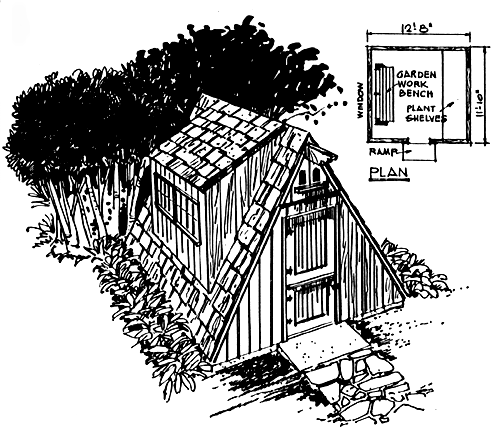 Home Improvement 4014-If your garage can't store all the gear required for gardening and outdoor living, build a shed. This one-and it could serve as a children's playhouse, too-is designed with workbench and plant shelves. Add a ramp to wheel in lawn mower and /or bicycles. Hinged dormer windows that open out cast light on the workbench project at hand. Dutch door adds design interest to the shed, which is finished with exterior grooved siding. Built with standard-size lumber, the shed is 12 feet, 8 inches wide by 11 feet, 10 inches deep, by 11 feet, 4 inches high. The depth can be extended by 2 or 4-foot increments.
---
A-FRAME STORAGE SHED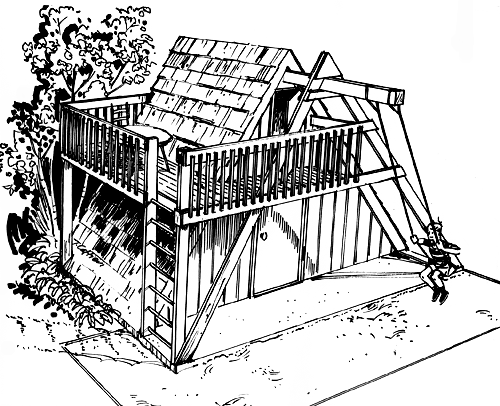 Home Improvement 5012-This A-frame shed serves for more than storage. Its upper deck, which is reached via ladder, is an open play area for children. A swing, at front, hangs from a projected beam over a sandbox that's nicely placed to cushion falls. The shed itself provides storage space for garden tools and equipment, bicycles, etc. Shed is 16 feet wide, 8 feet, 2 inches deep; 14 feet, 6 inches high from ground to ridge. Vertical grooved plywood is used at sides; wood shingles cover roof.
---
A-FRAME SHED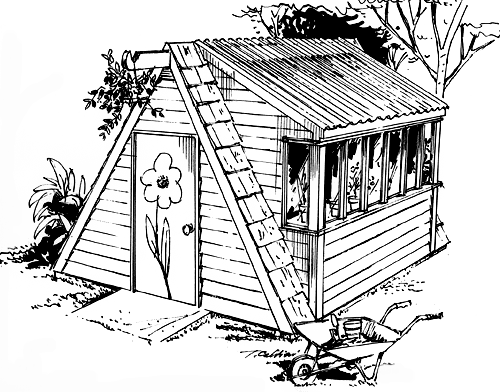 Home Improvement 6010-Where do you store gardening supplies, bicycles, lawn mower and other aids to outdoor living? If you need an answer to the question, consider this A-frame shed. It is 12 feet wide, 10 feet deep, 7 feet high. Inside, benches and shelves are for gardening supplies. Center space is utilized for storage of mower and bicycles. Economical panels of corrugated plastic are used for solarium roof.
---
A-FRAME PLAYHOUSE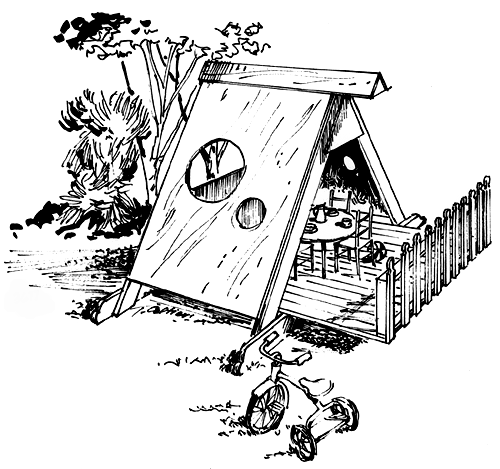 Home Improvement 3677-Instead of pitching a tent; the kids will enjoy having their own A-frame playhouse. It's easy to build with 4' by 8' plywood used for each side of roof. Wood deck projects forward to form a front porch. Fence is a nice finishing touch. Ideal for summer sleep-outs, playhouse is 7 feet wide by 8 feet high with a 6 foot, 3 inch deep deck.

For questions, suggestions, or comments please contact the webmaster

Copyright ŠAugustus Suglia 1997-2003